You thought the Zombie genre was the only one that has inflicted the gun industry?
In an attempt to get more women into shooting and carrying pistols, manufacturers have began offering guns in various feminine shades.
This isn't a completely new idea, Smith & Wesson created a tiny .22 revolver around the turn of the century called the Ladysmith. It wasn't pink, but it was designed with women in mind.
The Ladysmith eventually became a lightweight version of the J-fame. It is now available with pink grips from the factory
High Standard offered a pink version of their alloy framed Sentinel Revolver in the 50's
I think Ruger may have been on the leading edge of this new round of pink guns with their LCP 380 pistol
They called this color "Raspberry"
They also have a purple one
They then changed the color to a more pastel pink and offered it on the LC9 pistol as well
Ruger also offers their LCR revolver with pink hogue grips
Ruger also has feminine versions of the SR22
Kel-Tec also offers a pink version of their pocket pistols
Kahr Arms
They recently added purple as well
Charter Arms Lavender & Pink Ladies
EAA has a new line called "Pavona Arms"
ISSC
Beretta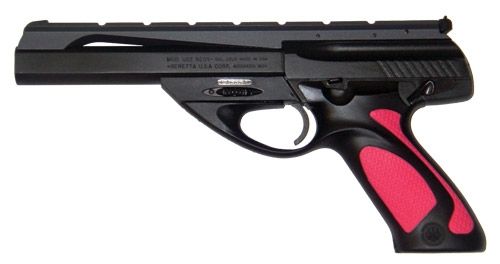 The new Beretta Pico comes in a variety of colors including Pink & Purple
Smith & Wesson
Sig Mosquito
Sig P238
The P238 in Purple
Another Sig
Walther
You knew Taurus would not be left out
Taurus has added purple & bright yellow to their pallet as well
Bond Arms
SCCY
Accu-Tek
Diamond Back
Olympic Arms Wolverine
Cobra
STI
Remington is now offering a Pink outfitted version of their 870 Shotgun
Heritage Arms
Cricket also makes two pink versions of their youth rifle
You could also just install pink grips and convert a standard gun into a girly pistol
Tapco makes a stock kit for AR rifles
Magpul also makes pink AR accessories
Tapco also make stocks for 10-22s
Hogue also makes a pink AR grip
Hogue also makes a pink version of their overmolded stock for 10-22s